Breakfast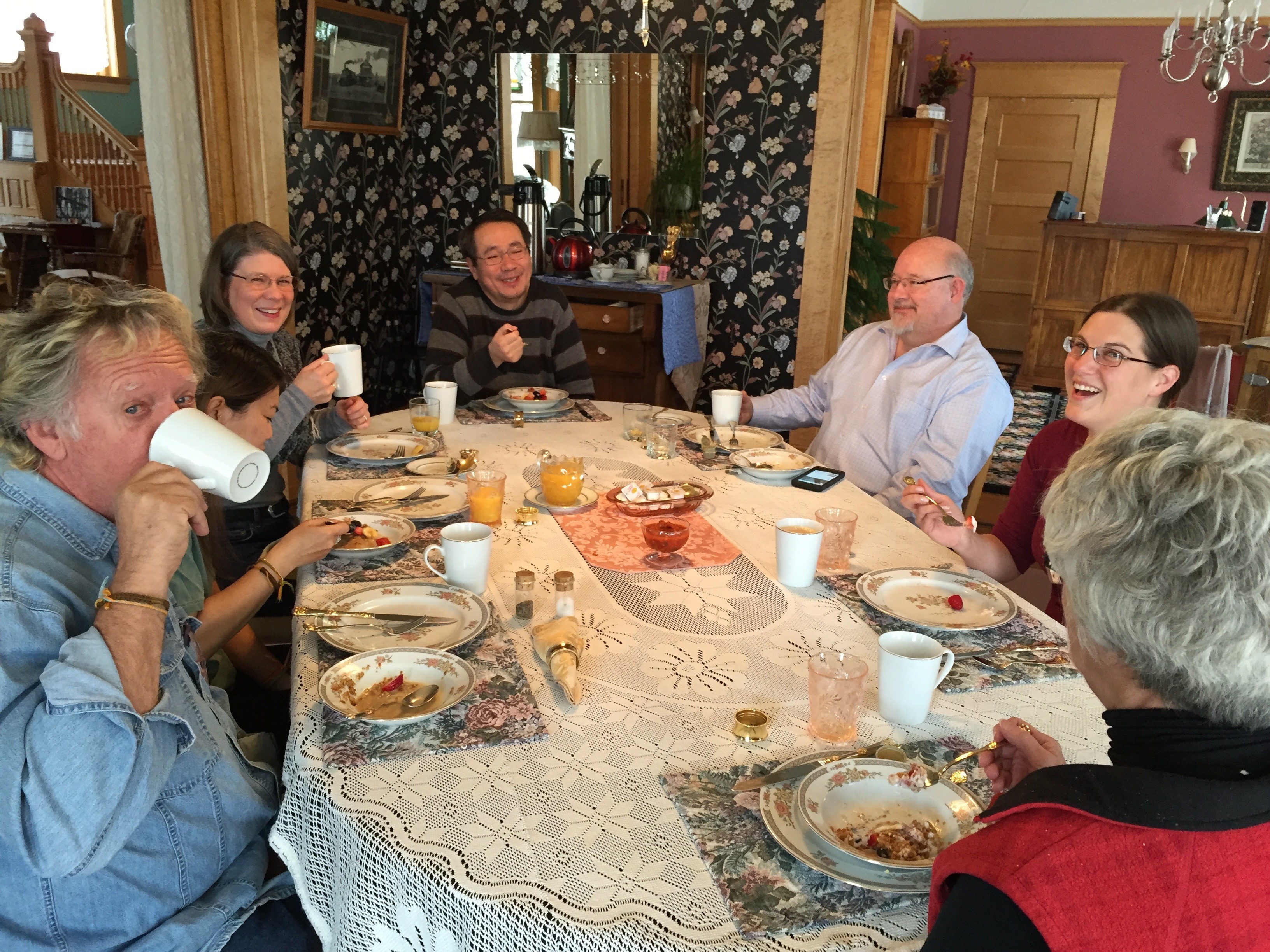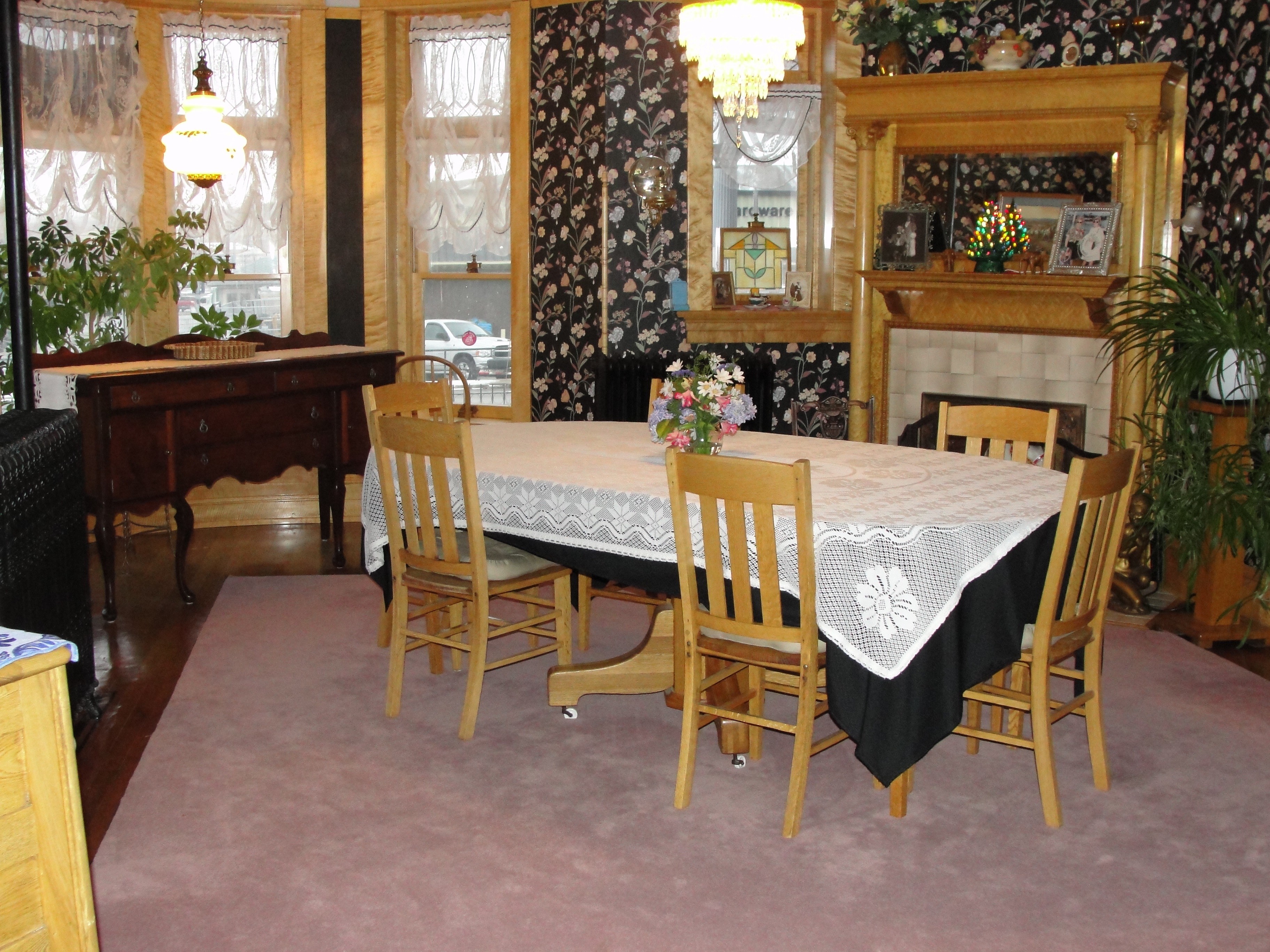 Served in the side parlor, choose from a 7:30 am or 8:30 am time. Meticulously restored Bird's Eye Maple adorns this room in the tower portion of the main floor. Menu items include homemade granola, yogurt, fruit, egg dishes, different flavors of pancakes and french toast complimented by homemade syrups. Beverages include coffee, assortment of teas and hot chocolate. Just let us know in advance if you have special dietary needs.
Try Making Our Carmel Apple French Toast Yourself
In a medium sauce pan add
1/2 cup butter
1/4 cup brown sugar
1 small pkg Vanilla cook n serve pudding
2 tbs. Mrs. Buttersworth Syrup
Stir with whisk and cook over medium heat until boiling. Let it boil a minute or so until it thickens. Remove from heat and add 2 apples cut into tiny little pieces and stir well. Set aside.
In large mixing bowl with electric hand mixer blend the following;
6 eggs
1 cup Milk
1/4 cup Sugar
1 TBS Vanilla
1 TBS Cinnamon
1/4 tsp salt
Cut a french loaf into 12- 16 slices. Dip half the slices in the egg mixture and put in 13 X 9 casserole. Spoon half the apple mixture on top of the slices and layer the other half of the bread slices on top. Spoon other half of the apple mixture
on the top and sprinkle with cinnamon. Cover with wrap and refrigerate overnight. Bake in 350 oven for an hour or until a knife comes out clean. Watch so it doesn't burn on te bottom.

Enjoy,
Kaye-Marie
Our Homemade Granola
Try it Yourself

Dry Ingredients:
6 cups Quick Oatmeal
6 cups Old Fashion Oatmeal
14 oz (Large Bag) Coconut Flakes
2 Cups of Sliced Almonds
2 Cups of Dry Roasted Sunflower Seed
1 Cup of Chopped Pecans
Other Ingredients:
1 1/3 Cups Canola Oil
1/2 Cups of Butter
3/4 Cup of Molasses
1/2 Cup Honey
1/2 - 3/4 Cup Brown Sugar
1 TBS Vanilla Extract (Add after boiling the above)
Mix dry ingredients in large bowl. Cook other ingredients in medium sauce pan over medium until boiling. Let boil for a minute or so and then mix in 1 TBS of Vanilla extract. Poiur over dry ingredients and stir, stir, stir. Allow to set a bit. Bake on cookie sheet at 350 degrees. I do four batches and use a heavy duty cookie sheet so it's evenly spread out while baking. Bake for 10-15 Minutes, stir and bake 10-15 more minutes. Watch closely. You want the coconut to get a golden brown.
Place baked granola in a big bowl and stir frequently while it cools. If you don't it will turn into a big clump. After cooled, place in Ziploc bags and freeze.
This is the gluten free edition of this recipe. You can add wheat germ or flax meal. Just reduce oatmeal by a cup.
Enjoy,
Kaye-Marie